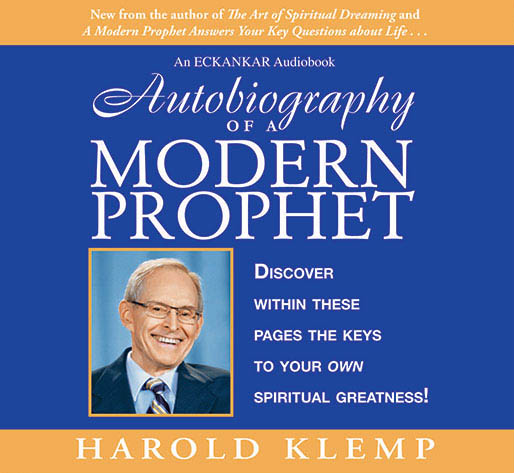 Autobiography of a Modern Prophet, an award-winning book by Sri Harold Klemp, spiritual leader of Eckankar, has now been published as a downloadable audiobook. This is the riveting account of Sri Harold's personal journey to the heart of God. His story proves that the road to spiritual greatness is right here, under our own feet, no matter where we stand today.
A story of spiritual survival for all times.
The book, aptly narrated by Rich Miller, helps readers experience Sri Harold's significant life events, breakthroughs, and spiritual wisdom.
Barbara B. writes in Google Play, "This is possibly one of the most thrilling spiritual books I've ever read. It's a very immersive journey that takes a farm boy from Wisconsin to the heights of spiritual consciousness. It stirred my own dreams of wanting to become a higher spiritual being and transcend challenges. It takes you way beyond conventional thinking about how someone can reach God.
"The narration was really excellent. The words are like portals that can launch you into new worlds of awareness and self-confidence. It's also a great value, with thirteen hours of listening. This audiobook is truly one of a kind."
Tammy A. writes, "This book is one of my favorites! Truth rings from every page and touches my heart in a way no other book has. I love the written word; however, listening to this book took me to another level entirely!
"It is the perfect companion, and I hear something different every time. Highly recommended."
An ECKist wrote, "When I told Alexa [Amazon's virtual assistant device], 'Read Autobiography of a Modern Prophet' (using an Amazon tablet with a screen), it showed the cover of the book, said it was available from Audible, and gave info about an Audible trial period and subscription. Then an excerpt of the narrator reading the contents and part of the introduction."
How cool is that?
The downloadable audiobook is available from Barnes & Noble/Nook, Amazon, Audible (with or without a subscription), Apple/iTunes, Audiobooks, Google Play, Kobo, Chirp, and other sites. Search for it wherever digital audiobooks are sold.