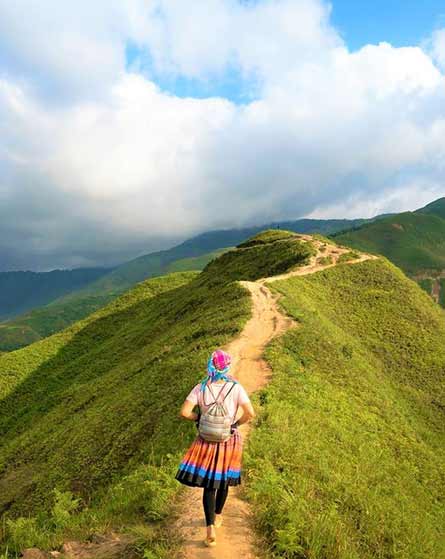 By Sri Harold Klemp
This is a technique of the imagination.
Find a quiet place for this spiritual exercise where no one will disturb you for ten or fifteen minutes. Then shut your eyes and look behind and between your eyebrows. That is the location of your Spiritual Eye.
Now imagine you are climbing to the top of a broad green mountain. Follow the dirt path that leads to a meadow dressed in a carpet of bright, cheerful flowers. Powder-white clouds kiss the summit of the mountain and will instill in you a sense of great joy and wonder.
That is the Mountain of God.
When you reach the top, lie upon the thick, soft carpet of luxurious grass. Feel the sunshine play on your face, arms, and body. Now shut your eyes there on the mountain, too, as you did at the beginning of this spiritual exercise.
Then look gently but steadily into your Spiritual Eye for the Light of God. While waiting for It to appear, sing HU slowly, again and again.
The Light may appear as a soft field of light, similar to the soft white clouds above the mountain. Or it may be a pinpoint of light—blue, white, yellow, purple, or even green or pink.
Continue to watch for the Light within your Spiritual Eye. Now also start listening for the Sound of God—the vibration of the Holy Spirit moving the atoms of life. You may hear It as the sound of a flute, a rushing wind, the chirping of birds, a crashing waterfall, ringing bells, or the buzzing of bees. These are actual, not imaginary, sounds.
This dual manifestation of the Voice of God can bring you more love, wisdom, and understanding.
Let the experience be all you can imagine it to be—and maybe even more.
—Excerpted from ECK Wisdom on Spiritual Freedom